6-in-1 Slimming & Beautifying Handset™ | Belle Glory
-
Sculpt your body as you want!
Introducing The Intelligent technology that will help you achieve the perfect Skin & body that you Always Wanted!
 Our 6-in-1 Slimming & Beautifying Handset™ For Anyone who wants to:
Burn Body FAT from localized areas & Remove Stretch Marks, and Cellulite

Get rid of stubborn Belly Fat, Sagging, and double chin.

Enhance skin elasticity, prevent wrinkles, and remove acne.


Tighten, lift & smooth your skin.

Achieve the effect of cleansing from dust, dirt, and toxic cosmetics.

Eliminate fine lines on the face and body.

Relax muscles, relieve muscle spasms/pain. 

Stimulate your metabolism.
Enhance strength & endurance by improving blood circulation.
Lift, tone & shape butt AT-HOME.
Scientifically Proven: Countless studies have proven the effectiveness of the Ultrasound Cavitation and concluded that treatments can lead to lasting results regarding skin condition, Repair Stretch marks, Cellulite, and overall health.
Safe & Non-Invasive: It is the preferred option for those who don't want to undergo extreme options such as liposuction. This non-invasive alternative can help you to eliminate local fat deposits without carrying any risks. No discomfort is caused, no needles, no repercussions. Everything happens via natural processes.
Convenient & Effective: Our Ultrasonic Cavitation Device can be used from the comfort of your home. Just 10-15 MINUTES of 3 treatments/week makes a big difference! against wasting too much time and money on tons of products or weekly treatments without any satisfactory outcome
How Does it work?
- The Science behind this device.
Ultrasonic Cavitation is a treatment to repair multiple skin problems and burn body fat that accumulates in specific and localized areas. It consists of generating, in a controlled way, a series of small bubbles that destroy the body's fat cells without interfering with the blood system. These bubbles produce ultrasound waves that are modulated at multiple frequencies. Thus, fat acquires a liquid state and it is possible to eliminate it from the body through urine and the lymphatic system. It also does not involve any side effects and Pain-Free.
Our 6-IN-1 Slimming & Beautifying Handset has been designed to deliver perfect shape, flawless skin, and lasting results without any pain or sensitivity, all from the comfort of your own home.
As our amazing worldwide customers, more than +20,000 can attest, that 6-IN-1 Slimming & Beautifying Handset™ makes change very simple.
✔ Save 60%+ OFF BelleGlory whilst stocks last!
✔ Works on any body part (including face and Brazilian)
✔ Takes just minutes to use.
✔ 1 Year Warranty
✔ 1000's of happy customers worldwide.
✔ 12+ year use-life.
✔ Lifetime complimentary servicing
✔ Dedicated Results team.
✔ Premium Material-Quality Not Available in Stores! & 100% Money-back guarantee!
Need help? just contact our support team at support@belleglory.com. We Always Happy To Help!
- Press the Power button, then Press the desired mode to start the treatment.
- (The approximate treatment time is 5-10 minutes for each area)

- Slowly move in little circles on the area, then lift up and repeat on another area of the body.
Visible results
in just
few uses

1 device 
6 functions 



Use from  
the comfort of 
your own home 



Safe
Non-Invasive




Gentle on skin 





FDA
approved




Use on ANY 
body part 



Quick and easy 
to use 




No extra 
payments or 
refills needed 
It comes with the 6-IN-1 Slimming & Beautifying Handset, 2 Pair Electrode Contact Pads and 1 Pair Electrode Gloves for EMS mode, 1 Electrode Conductor, 1 Power Adapter, 1 Safe Glasses and a User guide.

BelleGlory Kit



User Guide


 
24/24h
After-Sale Service
Customer Reviews
09/14/2020
Alicia V.
Morocco
This device is amazing!
This device is amazing! No matter how much crunches or planks I do I've never been able to get rid of my stubborn belly fat. Not that I'm overweight but It has always annoyed me. I've now been using BelleGlory for a little over a month and I can tell my stomach has gotten slimmer than before! It's amazing! I love this product!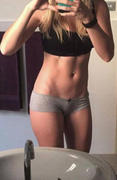 09/14/2020
Maisie A.
Morocco
I can see a huge difference as you can see as well.
I did one treatment at a professional clinic and It was very expensive. I found this device online and purchased it to pursue my treatment at home. It's been 1 months and I already can see a noticeable difference. In the beginning, I wasn't sure it would work but I used it regularly 3 times a week and now I can see a huge difference as you can see as well. My skin is really smoother and tighter. I'm looking forward to seeing the results after 3 months of treatment.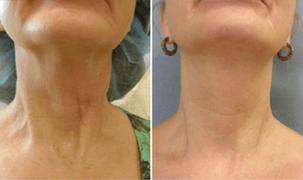 09/14/2020
Sandra B.
Morocco
This Handset is a true cellulite killer!
It's difficult to believe but this Device is a true cellulite killer! I used it for 2 months, as recommended, and this is the result! By looking at the two pictures side by side I can say I'm very impressed by the change. I use it in combination with the MASSAGING & SLIMMING CREAM FOR THE HANDSET, 10mins a day. Usually, the evenings while watching TV. Also, I try to drink lots of water. It probably helped too. Very happy with my purchase.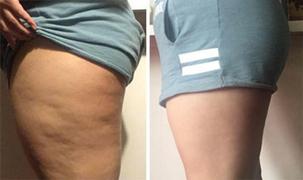 09/14/2020
Marian E.
Morocco
THIS WORKS 100%.
I discovered this product after my friend tagged me on an Ad on Facebook. This product really works and helped me remove the pudge around my belly. My belly has always been my problem area and no matter how much dieting or exercise I did, I could not get rid of that pudge. There is a noticeable difference in how my stomach looks just after about 2 weeks of using the device. As you can see from the pictures, my belly looks a lot better. I usually read reviews before I purchase products and because this product has benefited me, I decided to leave my experience here also. I have already recommended this product to a lot of my friends and family.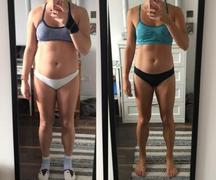 09/14/2020
Mia F.
Morocco
Highly recommend.
I've had cellulite on the backs of my legs for literally my whole life and have always been really self-conscious about it. I saw a lot of women using this on their stomach and figured I would try it on my legs and was AMAZED at how fast this Handset works. Tracked my results using pictures to see if there was actually a difference and wanted to share so other women can see it! I could do all the squats in the world and my legs wouldn't look like they do now. I'm so excited to wear shorts and bikinis this summer, thank you BelleGlory!!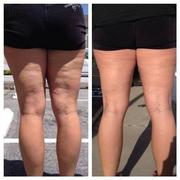 10/23/2020
Mary HJ.
Morocco
09/14/2020
Tanya V.
Morocco
10/23/2020
Serena MK.
Morocco
10/23/2020
Karina V.
Morocco
Safe and effective
I was on a keto diet and already lost weight but my stubborn belly fat is difficult to get rid of probably unless I go for liposuction which is too expensive. Some women are lucky, their belly fats don't linger even after pregnancy, but for me, it's a real problem. So decided to try this fat Burner handset. Not as expensive as the cost of a lipo surgery. So I have been using it for a week now, I actually notice the difference. I'm still on a diet and still want to lose more weight. My weight loss progress became faster. I used to just lose 0.50kg a week with my diet and exercise alone but this week was amazing, I actually lost 1kg in a week with the combination of using this product. I also notice my cellulite on my upper legs is improving. I am definitely recommending it. Found it easy to use without any problem and it doesn't give any pain at all. Very happy.
10/23/2020
Christina Q.
Morocco
High quality Handset.
The product is packaged in a beautiful box and delivered promptly. I've been fat since I gave birth, especially my belly, thighs, and butt. I want to lose weight but I don't have time to go outdoors and exercises with my kids. So I'm looking for the right weight loss products to help me .till I saw the introduction of this handset, I decided to buy it and try it.it's easy to use and operate according to the introductions on the manual.